Puppies
Pine Mountain Setter Puppies
We love puppies plain and simple. My family, my Partner Dr. Ward his famliy, and I love to play with them, care for them, from birth until they leave for their new homes. Then continue to check in on them and offer any advice that might be needed. Every puppy should be well socialized, exposed to the outdoors, and allowed to be around other dogs. That is a major priority at Pine Mountain Setters. Every puppy is held and handled individually every day. I also expose them to noises such as me shacking gravels in a bucket while their feeding to help them with becoming broke to the gun and other noises that could lead them to be gun shy. They are around other dogs, allowed to explore in the yard, and at the edge of woods to help strengthen their boldness and pray drive. When you go to pick a pup from a litter they should be active, not afraid to let you touch them or hold them, want to play with you, are out exploring the area around them and look healthy. This can only happen with well socialized, well cared for and loved puppies; not puppies that have spent their first seven to eight weeks locked in a kennel or kept in a whelping box all the time. When I pick a puppy out for myself this is a major priority on my list.
Our Puppies are breed for conformation, tempermant, and hunting ablility. They Naturally point birds and often naturally retireve and back. These beautiful setters take a gentle hand a little time and exposure to birds to develop them into a hunting compain and grouse dog for life. I personally couldn't imagin being in the grouse woods without my setters!
Planned Litter
Pine Mountain Sadie was breed to Firelight Seth and delievered 6 beautiful pups on May 7th 2017, 3 Males and 3 Females. There is currenlty 2 picks for a male puppy avalible. If ineterested please contact Pine Mountain Setters.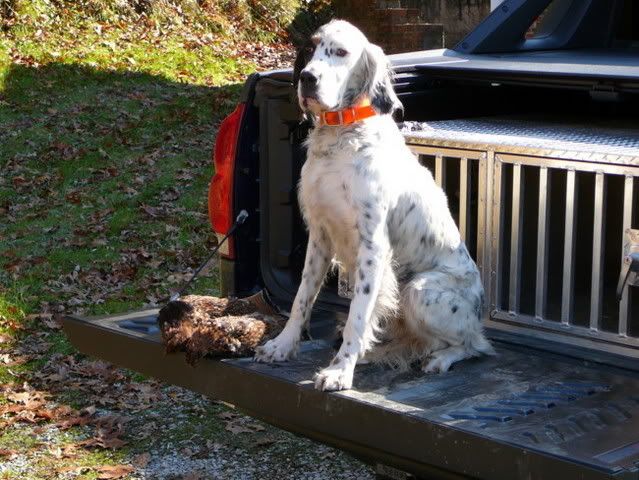 Smith's Hemlock Patches below Seth
Purchasing a Puppy
The price of a Pine Mountain Puppy is $850 for both male and female. (I strive to keep my prices as low as possible so everyone that has a love and passion for these beautiful setters can have the ability to purchase one). Each puppy will be dewormed, have their first set of shots and will be vet checked by my personal vet. Who is also my fellow brother in Christ, partner at Pine Mountain Setters, my hunting buddy and very close dear friend, whom I only trust to work or care for my dogs.
A deposit of $200 is required to hold a puppy and is non refundable. The remainder of the purchase price is due at pick-up. Puppies will be picked up at 7 weeks unelss my vet recommends other wise on a case by case bases. You are placed on the list in the order that you contact me and once I have confirmed a breeding has took via X-Ray I will contact everyone on the list in order and if they are still interested will have them send a $200 deposit which is non refundable unless a specific gender can not be provided. I do not place anyone down for specific color or sex since I know personally things can change and no one can plan on how many males or females will be born. Even though I like some markings and colors better I am a hunter first and color comes on down the list for me when evaluating a puppy.
***All owners of a Pine Mountain Setter Pup will be required to sign a contract outlining the health guarantee and the owners agreement to OFA any Pine Mountain pup prior to breeding and only breed to OFA certifed Setters.***

NOTE:
WE WILL HOLD YOUR PUP AFTER 7 WEEKS. AFTER 8 WEEKS A FEE OF $15 A DAY WILL BE APPLIED TO THE PURCHASE PRICE AND ARRANGEMENTS MUST BE MADE PRIOR TO 8 WEEKS. AFTER 8 WEEKS IF THE BUYER HAS FAILED TO MAKE CONTACT WITH US AND NO CONTACT CAN BE MADE WITH THE BUYER OR THE BUYER FAILES TO ARRANGE A TIME AND DATE TO PICK UP THE PUP THE BUYER FORFITS THEIR PLACE ON THE LIST FOR A PUP AND PINE MOUNTAIN SETTERS WILL THEN START THE PROCESS OF PLACING THE PUP WITH ANOTHER BUYER. THIS POLICY IS IN PLACE DUE TO THIS TIME BEING A VERY CRUCIAL TIME FOR THE PUP IN ITS DEVELOPMENT AND BONDING WITH ITS NEW OWNERS.
Our dogs and Puppies are registered with the FDSB (Field Dog Stud Book) and the purchases agrees to name the puppy with the name Pine Mountain affixed in front of their chosen name for example if Emma was the chosen name of your puppy the registered name submitted to FDSB would be Pine Mountain Emma. Each purchaser will be provided the proper paper work to have their pup registered.
If an owner would like a puppy shipped to them, they will be responsible for all shipping charges. Crate, vet examination etc. Plus a $75 transportation fee. Payment for shipping must be received before shipping the puppy.
All owners are encouraged to keep in contact with us on the progress of their puppies. Pictures are always welcome as we would love to see how our pups are doing in their new homes.
I also will accept payment via PAYPAL for the purchase price and deposit if you wish to send payment that way or pay with a credit card. **3% will be added to the price to cover Paypals fees for payment*** Please contact me for payment with paypal.
PLEASE LOOK AT THE HEALTH PAGE FOR HEALTH GUARANTEE **Click on The Health Page Link Below**